Today, Sharebox is happy to announce that it now has 10,000 customers. Big milestone for us and a good occasion to pat ourselves on the back.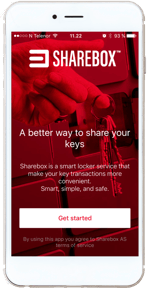 In our first 8 months, we reached 1,000 customers. In the following 8 months after that, we grew to reach 5,000 customers. And less than 6 months after that milestone, we've doubled our customer base to 10,000!

Great achievement by our team, who have all but burst the seams of our 1.950 key exchange lockers. Beyond celebrating ourselves, it's a good occasion to celebrate our 10.000 customers.
"We believe that Sharebox is a great product that can help people manage their keys with our app and have happy guests renting out their private home on Airbnb," says Arne Eivind Andersen CEO of Sharebox.
But the real heroes here are the companies that take on the challenge of supercharging customer service of unprecedented levels. Companies like Airbnb that have completely disrupted how people find lodging for their vacations and travels, and have garnered millions of users worldwide.
Without companies raising the bar and rewriting the agenda for what customer support and service means as a competitive differentiator, Sharebox wouldn't have experienced anywhere near the growth rates that we have.
Thanks to all our customers for celebrating this milestone with us today. We have a lot more in store for this year, and we look forward to being able to share all of our new and exciting Sharebox locations as we move along together.
About Sharebox
Sharebox simplifies your handover by offering a service completely managed by your phone. App-controlled cabinets, placed at central locations, ensure you a safe and efficient handover whenever you need.
Disclaimer: The press releases contained in this archive section are provided for historical purposes only. The information contained in each press release is accurate only as of the date each press release was originally issued. Sharebox disavows any obligation to update the information contained in such press releases after the date of their issuance.